As a volunteer (albeit an 80 year old one) I arrived at Ndi Moyo in January not really knowing what to expect. What I found was a place of extreme kindness, abundant love, indefatigable motivation and an enormous amount of determination.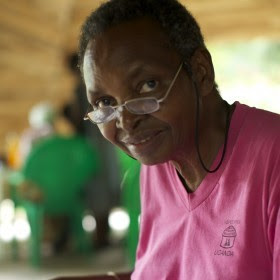 Lucy and Tony Finch are truly a force to be reckoned with – they are both in their middle seventies but have the stamina of workers at least 30 years younger.  In my eyes they have achieved the impossible – overcoming the lack of electricity, water shortages, unresponsive telephone lines and daily telephone calls that either aren't answered, or get cut off in mid conversation.  
Add to this list the misappropriation of drugs, blankets and even beds in some of the government run hospitals and you get a pretty good picture of how difficult it is to run anything in this part of Malawi. In setting up and running Ndi Moyo's Palliative Care Centre they have both achieved not a minor miracle but many would say a major one. Persuading Malawians to change their ideas and to think about extending the life of those unfortunate enough to be carrying life-threatening diseases has been a giant leap forward as well as a leap of faith in Lucy's determination to 'make people aware and participate in the practice of holistic palliative care'.
This was brought home to me in a big way as every member of staff (including Tony, Lucy) the Clinical and nursing staff, the office staff and some volunteers (including me) and grounds-men swung into action on the 16th January this year to host Ndi Moyo's annual Patients New Year Party – a day when all their registered patients are invited to Ndi Moyo to spend the day enjoying home cooked food, music, dancing and presents.
This year, 150 patients, together with some of their families arrived for the festivities. Behind the scenes 50 chickens had their necks rung and were cut up into manageable pieces and 5 goats had been slaughtered and cut up ready for the BBQ.
On a day I will never forget I met so many wonderful people – there was little Maria who for some reason took a fancy to me and followed me around all the time; Beatrice who was on crutches but still managed to dance with a smile which stretched from ear to ear; Janet, a lady with such a hauntingly sad personal story, but with a smile which came from deep within her heart; Yasin and Assad, two male patients who were very sick but who obviously wanted to join in the celebrations and I will never forget Madaro, a lady who I thought was about 90 but was in fact around 45-50 years of age. She was so emaciated, but her stick like arms swung to the music and her body moved to the rhythm.
My lasting memories of that momentous day? The unbelievable kindness shown by the staff to their patients, the warmth and natural curiosity of sick patients and the love which was abundantly given to Lucy and was returned by her. For those who don't know Lucy her love for her fellow man is like a beacon – it shines like an evening star that is in fact a goodness which I genuinely believe very few people in this world attain, but it is what Lucy innocently gives out and is returned 100 percent by all who meet her.
With thanks to Lizzie Brett for all her help at Ndi Moyo and for sharing her experience with us.